IMVis
instant messanger visualization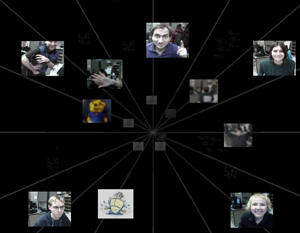 IMVis is an instant messenger visualization that provides peripheral awareness of others using visualization techniques. The visualization may not be your primary task, but as a secondary application it is easy to see who is available and ready for interaction. IMVis represents contacts from your MSN Messenger contact list with either updating live video or a predefined picture for each availability state (online, busy, etc). Each contact is placed in a 3D environment using a space metaphor to show the current availability and your desired interest level.
Contacts that become more available w2ill move closer to the viewer like those around the outer edge of the image. To create your own spatial mapping. all contacts can be moved around within the visualization. As well, by moving contacts closer to the focal point, you can mark them as being of less interest. Messages arriving from contacts appear in conversation bubbles for those contacts you are currently interested in. An updating starfield display in the background helps to show the frequency of interaction with each individual.
Primary Investigators
Carman Neustaedter (MSc Student)
Saul Greenberg (Supervisor)

Milestones
First version was developed and used on my work and home computers.
Deployment to others within the university is currently underway.
Current Status
This project was part of an Information Visualization course at the University of Calgary.
Future versions will include depth adjustments while resizing the window to utilize the available window space.
Key Papers
Neustaedter, C. (2001) A 3D Instant Messanger Visualization Using a Space Metaphor. Department of Computer Science, University of Calgary, Alberta, Canada.