GroupWeb
a groupware web browser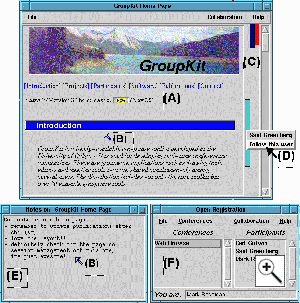 GroupWeb is a groupware version of a World Wide Web browser that lets people in a distributed meeting share and navigate through Web pages. An immediate application of GroupWeb is as a presentation tool for real time distance education and conferencing.
The figure illustrates GroupWeb. Through it, participants can:
Share the same view of the display, where following a link brings up the same page on everyone's screen.
Gesture around the image through multiple "teleporters", one for each person.
See where other people are looking through a "multi-user scrollbar".
Decide whether a scrolling action by another person will scroll one's view of the page.
Create and attach annotations to pages through a groupware text editor.
See what meetings are around, who is in them, and join them if desired.
Primary Investigators
Mark Roseman (Architect)
Saul Greenberg (Supervisor)

Milestones
GroupWeb implemented
Ideas of GroupWeb ported to a Tcl/Tk browser called SurfIt
Papers and video'' published
Current Status
Completed. GroupWeb was a small project. Unfortunately, the software is no longer available as it was not ported to recent versions of GroupKit. However, a groupware web browser is included as part of the TeamRooms (now TeamWave Workplace) project.