How To Add Information About Yourself
This tutorial gives a step by step instruction on how to add authorship information to your msi. It builds on the previous tutorial.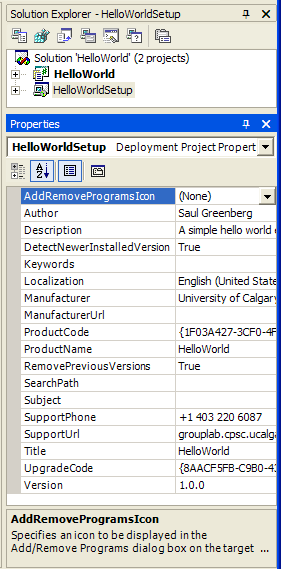 Step 1. Open the HelloWorldSetup properties.
Recreate and/or return to the HelloWorldSetup project you created in the previous tutorial.
Click the HelloWorldSetup project in the Solution explorer to show its properties in the Properties window.
Fill in whatever information you want: an example is shown here. Typical fields you may want to change include:

Author
Description
Manufacturer
Product name
Title
Step 2. How the Installation Folder is determined.
By default, the executable will be installed under: [ProgramFilesFolder][Manufacturer]\[ProductName],

the [ProgramFilesFolder] is normally C:\Program Files** the Manufacturer / ProductName is what you specified in the properties window
you can change the target installation folder by moving or deleting these placeholders within the string. For instance, another useful alternative is [ProgramFilesFolder][ProductName], which installs program files typically to C:\Program Files\Your Project.
Step 3. Try it out.
Repeat the build and install step as in Tutorial 1.
In the wizard, you will now see that:

the installation folder will have changed as mentioned in Step 2
the new name/title of HelloWorld will be used in the wizard instead of HelloWorldSetup''
similarly, the containing folder and the .exe will now be called HelloWorld