Transient Life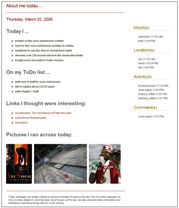 Transient Life is a system designed to enable the gathering of personal tidbits and information as well as provide mechanisms to share the collected information with others.
URL's and photos can be dragged and dropped into the Transient Life application, task items can be listed to form a today message, blog entries can be created and posted, and basic personal status information can be recorded. A History Calendar facilitates viewing of collected information from a past date.
Currently in Alpha stage. Development is ongoing.
Any questions, suggestions, encountered errors or bugs should be directed to smale<at>cpsc.ucalgary.ca
Contents
Download and Installation
Download the latest version: Version 1.2.7 (updated Oct 3, 2007)
Small fix:
Dates generated email with date of first entry into bar (or new start) instead of current date.
Known Issues:
Dragging and Dropping images from IE 7 works perfectly, but Firefox sometimes crashes
Gifs don't display in the sendmail viewer, but they will be viewable when recieved
Sending the today message to the blog probably doesn't work
Suggested Changes
fixing the editing of items problem
trying to find a better interface to blogs and IM
have everything go into a proper database
better links to email posting (e.g., gmail?)
FAQ
Q: What should my options settings be to send from my ucalgary address?