Shared Phidgets Toolkit (Version 3)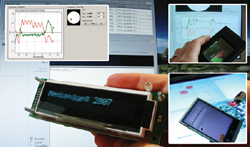 With the Shared Phidgets toolkit developers can easily build prototypes of distributed physical user interfaces. Physical sensors and actuators (e.g. servos, sliders, motion sensors, temperature sensors, buttons, displays) can be combined to information appliances that bring the interaction with computing technology into our everyday environment.
Note: The Shared Phidgets toolkit 3.0 is the completely rewritten version of the toolkit, with an extended and modified developer library API. Therefore it might be necessary to modify existing Shared Phidgets software before compiling with the new version. The documentation of the previous toolkit versions can be found here.
Contents