SDG Candy Game
<< Back to the SDG Toolkit page


SDG Candy
Collect as many candies as you can before the other person steals them all!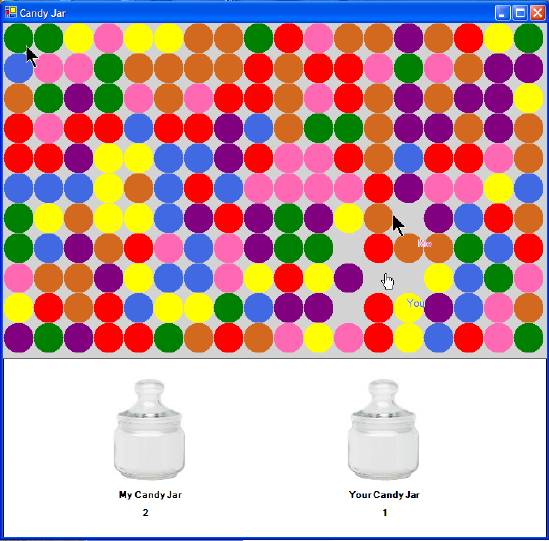 How to play:
Run SDGCandy.exe
Two players: YOU and ME, each with their own mouse pointer: ME is pink, YOU is blue
Goal is to get 10 candies in your respective jar first
(Start game with a 1-2-3-Go!)
If you are ME, you must collect pink candies to get points. YOU must collect blue candies.
ME can steal candies from YOU by clicking on blue candies. YOU can steal candies from ME by clicking on pink candies.
If YOU or ME clicks on a candy that is not blue or pink, that player loses a candy from their jar.
The aim is over when one player gets 10 candies in their jar, or ends in a draw when there are no blue or pink candies left.
Have fun!

This SDG example is developed by: Stephanie Smale, Fall 2005. Included with permission.