EPS Nature Sounds Exploration
<< Back to the EPS Toolkit page


EPS Nature Sounds Exploration ''
Created by Alexandra Braginsky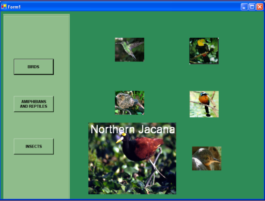 The project is designed to allow a user to explore the sounds of various creatures in nature. Three categories are present: Birds, Amphibians and Reptiles, and Insects. While the sounds of all members of a category are played together it is possible to hear how the presence of various animals combines to create a rich sound dynamic. However, one can isolate the sound of a particular animal by enlarging the image of it. This is done through placing the mouse cursor over the image.
As the image enlarges the name of the animal is also displayed providing additional information.
The project was created using the Elastic Presentation Toolkit. A single lens was utilized with a linear drop-off function.
The sights and sounds were provided by http://www.naturesongs.com . They own the copyright.